When it comes to connecting with fans, having an effective Instagram bio link is essential. After all, Instagram (and most other social media platforms for that matter) only allows a single clickable link on your profile. The best way to connect all of your accounts and content is to create a custom landing page with a link in bio tool.
Below, we'll uncover everything you need to know about creating an effective Instagram bio link so that you can keep your audience engaged from one platform to the next.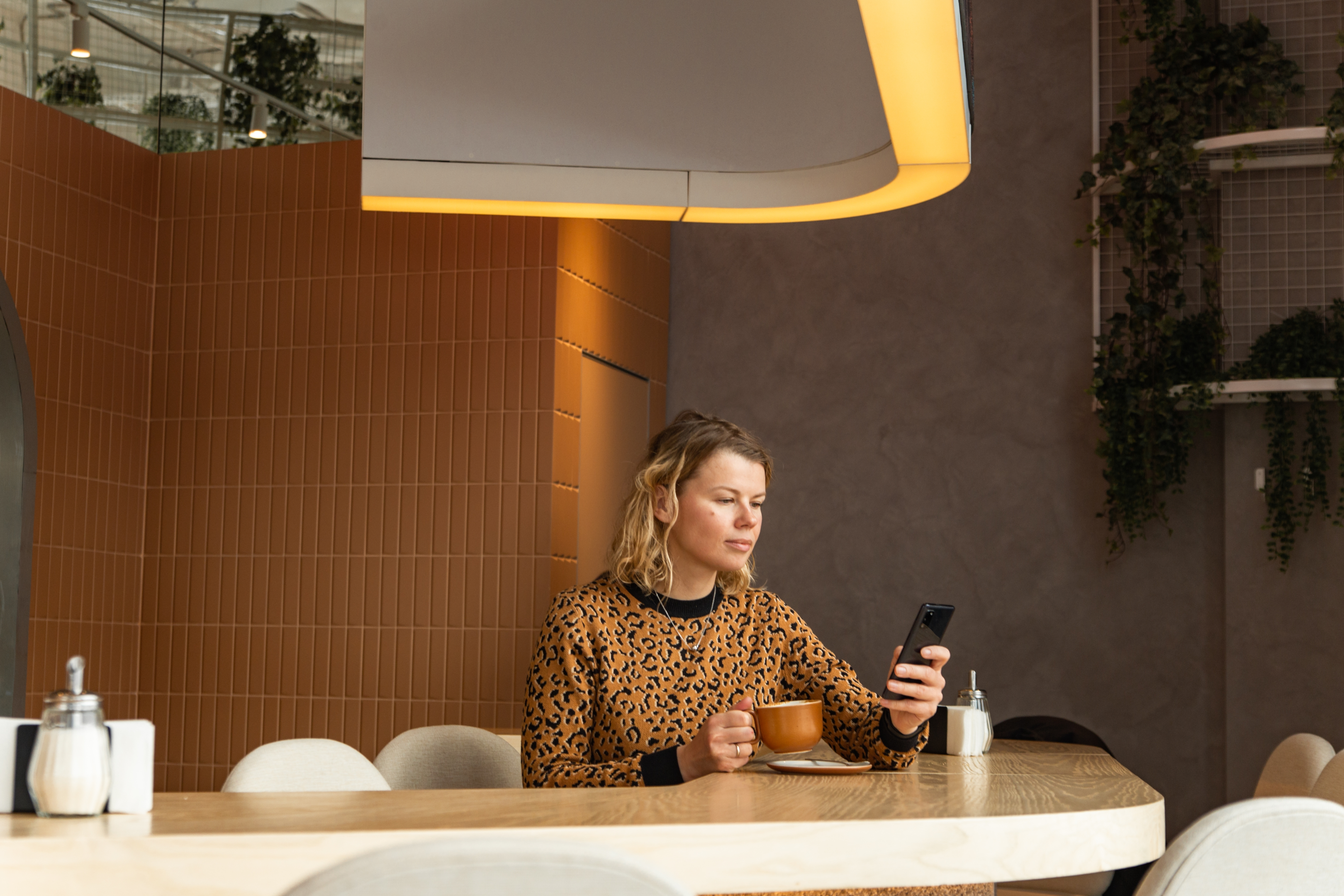 What Is An Instagram Bio Link?
An Instagram bio link refers to your personalized landing page hosted in the link section of your Instagram or other social media accounts. Since Instagram only allows users to display a single link on their profiles, users adapt with a single bio link that serves as a landing page and source to other content.
Instagram bio links created through services like Koji allow you to add links and embed directly from other social media platforms like TikTok, Facebook, and even Spotify. You can embed YouTube videos, add custom affiliate links, or even turn your link in bio into a branded storefront with the help of these tools.
Having the convenience of just one url makes it easy to funnel your fans and showcase all of your content. A well-crafted link in bio can serve as a free, modern website for creators and organizations alike.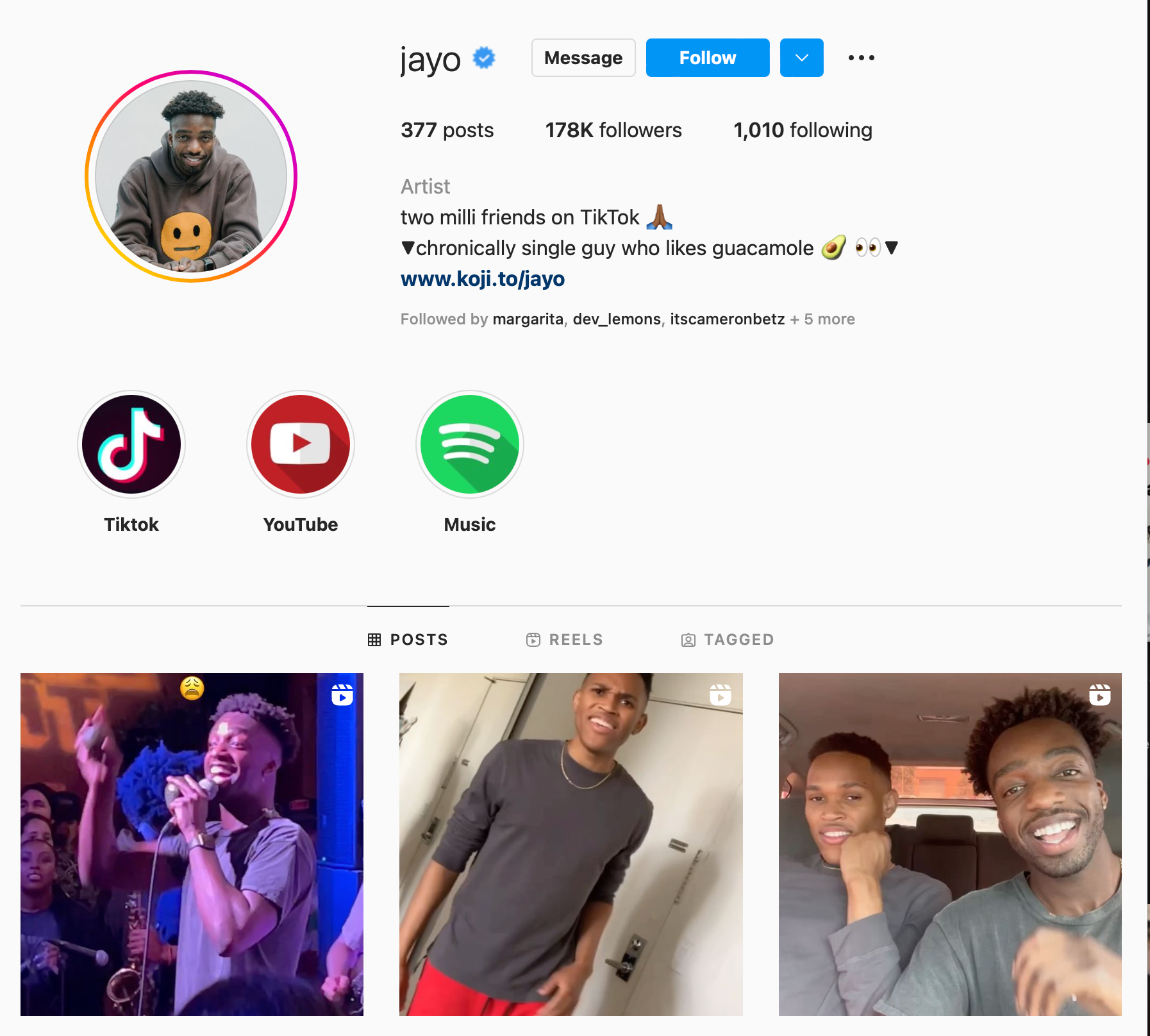 Your Instagram bio link shows up as a clickable hyperlink, separating it from the rest of your profile. These custom quick links can be shared in your Instagram stories and serve as the main website link on any of your social media platforms. When you click on a creator's custom url, you can access their other content on other platforms, send a tip or interact with other experiences set up by the creator: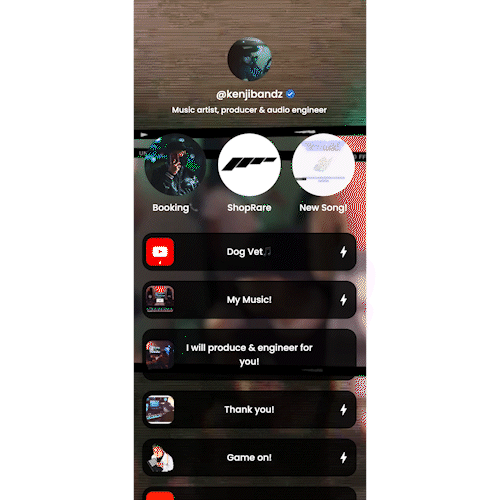 Whether you're a fitness influencer, musician, YouTuber, or general creator, making your own bio tool is essential. You can also create link in bio landing pages for different events or organizations if you aren't focused on a personal brand. Luckily, this process isn't complicated, and only takes a couple of minutes to set up.
Factors To Consider When Building Your Bio Link
Are you ready to build a stand out landing page for fans and friends? Here are some key factors to consider while sourcing the best link in bio for your Instagram profile.
Cost
Some link in bio tools require a subscription fee or lock certain customization tools or features behind a paywall. Other link in bios offer a free version for a limited time or limit access to free users. Koji's link in bio tools are 100% free to use which includes full access to custom backgrounds and designs, apps to help you monetize as a creator and sharing features so that you can connect without limits. Your free plan is the unlimited plan.
Ease of Use
Your social bio link should be easy for you to update, and most importantly, easy for your fans to access. You'll probably need to update your Instagram bio link tool on a regular basis, so make sure your design interface of choice is something you can quickly wrap your head around. Your fans should be able to access your content without excessive waiting time or having to hop from one platform to the next.
Customization
Branding is a key part of building a successful landing page. Keep your fan's experience consistent with custom link text, static or video backgrounds, and icons in your Koji link in bio.
Platform Features
Every link in bio platform has a range of features catered for different users. Ideally, you'll want to scope out a link in bio tool that allows you to add unlimited links, customize your landing page, and host unique experiences for your fans and audience.
Analytics
Robust link analytics and tracking features can help you determine which social platforms are generating the most traffic to the rest of your content. Whether you're seeking key features link views and click traffic, or want a more comprehensive deep dive with Google analytics or link tracking through Facebook Pixel, Koji has got you covered. It's also a good idea to use a tool like Koji's Instagram Embed, which allows you to embed your Instagram posts directly into your landing page.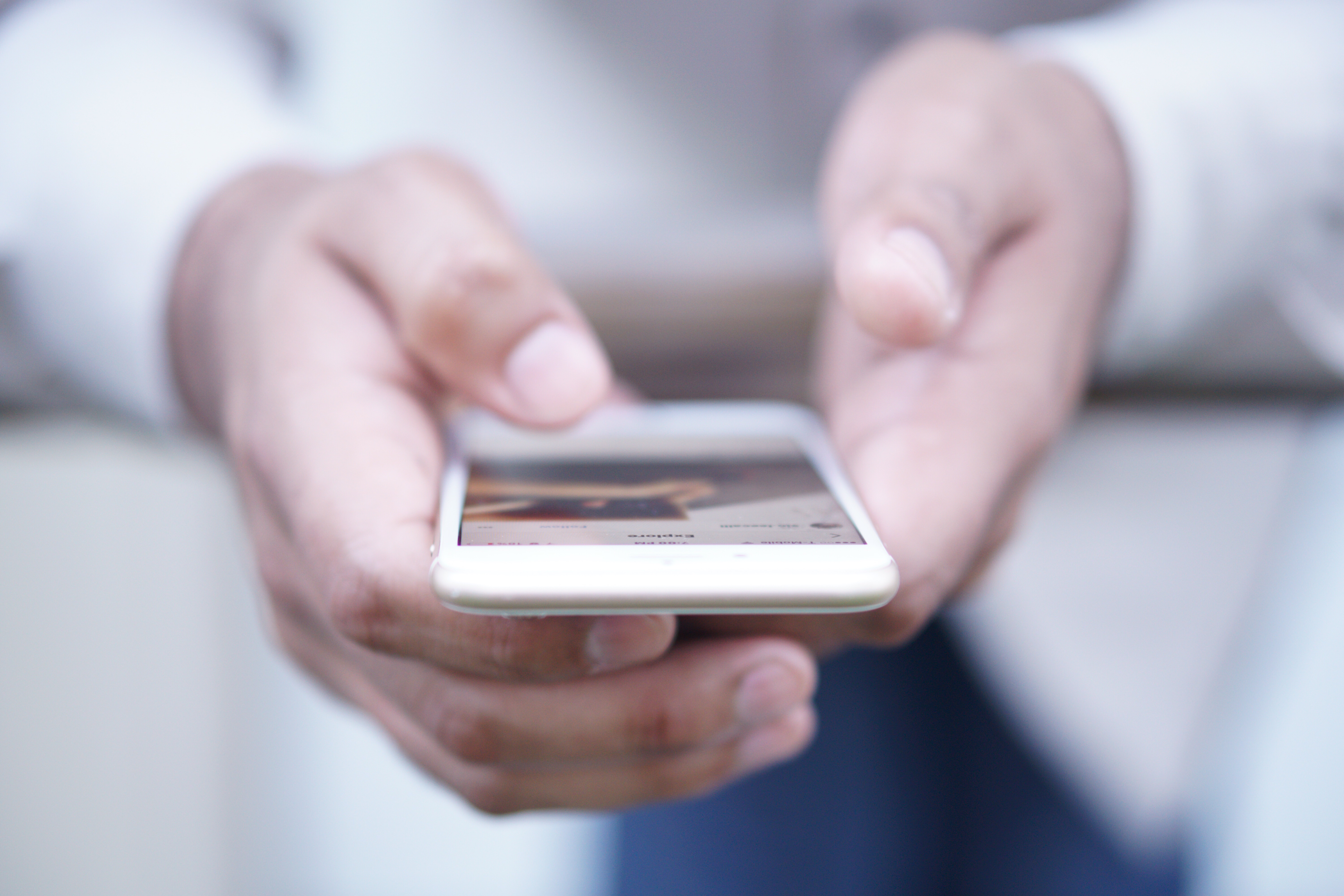 How To Build Instagram Bio Websites
Without futher ado, here's how you can build Instagram bio websites for your personal brand or company. We'll walk you through the basic workflow of Koji so that you enjoy unlimited links and fan experiences in your link in bio. You can also check out our blog post library and help center for additional information.
1. Sign Up For A Profile
Creating landing pages for your personal brand or business is simple. To start, head to withkoji.com on mobile or desktop and sign up. All you need is your phone number, email, Facebook, or Google account to get started, and customizing your link in bio with the drag and drop editor will only take a couple of minutes.
At this stage, you can claim a username which will also serve as the custom url for your link in bio tool. You can always change your username in account settings later if you're not set on your profile name. We recommend keeping your username as consistent as possible with your handle on other platforms like Instagram and TikTok.
2. Create A Short Bio
Once you've signed up for your link in bio tool, you'll be prompted to create a short bio for your profile. This short bio/description will be one of the first things your customers see when navigating to your landing page. You'll also be able to add a profile photo.
3. Add Your Social Links
Now that you have your basic profile set up, it's time to add some links! With Koji, you can add unlimited links to your profile by selecting "Add App or Link". This will open a window that allows you to customize your link text and icon to help it stand out amongst multiple links in your Koji profile. Hit "Save" before rinsing and repeating the process. Feel free to add as many links as you'd like and customize their display with the "reorder" toggle.
4. Add Apps
Koji provides a whole host of link in bio tools that are far beyond a link list. For instance, you can embed your Instagram images directly into your link in bio with Instagram Embed. This way, fans from any platform can enjoy your posts without having to jump from one content source to the next. As long as a fan has access to your bio link, they can enjoy any and all content populated there.
You can also add apps to help you earn tips, create a storefront, interact with fans to provide your audience with valuable experiences alongside your most important links.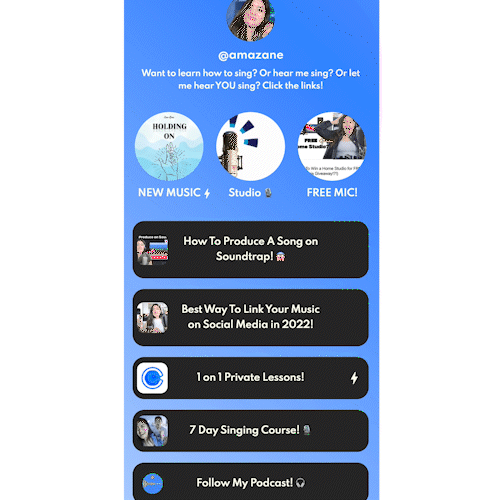 5. Customize Your Bio Link Tool
Once you've spruced up your profile with your desired links and apps, take the time to make sure your layout fits with your brand. You can create a custom video or photo background, change the style of buttons, adjust font, and experiment with different layouts to suit your content appropriately. Link text and images can be adjusted for individual links and apps. You can also tap into advanced features like using the Image Grid Profilemini app to create a different aesthetic for your landing pages.
6. Save and Share
After you add multiple links and apps to your link in bio tool, it's time to share your work! Save your profile and then click "manage" and then "share" to access your sharing options. From there, you can copy and paste your bio link for use on your Instagram profile.
You also have the option to share via QR code or directly to social platforms like Facebook, Twitter, Reddit, Snapchat, or LinkedIn for convenience. If you ever find yourself needing to touch up your link in bio tool, just head to "manage" and "edit profile" in the upper right corner of your Koji landing page.
7. Redirect To Your Bio Page With Consistent CTAs
Once you've built your link in bio tool, it's time to put your promotion skills to the test! Make sure to swap out your links across all social media platforms so that your landing page is consistent for your audience. In the Instagram mobile app, this can be done by pressing "edit" on the profile page.
To drive traffic to your branded landing page, call out your link in bio tool in your Instagram posts and stores. This could be as simple as, "Learn more in my link in bio!" or "Shop my online store in my link in bio". Get in the habit of shouting out your Instagram link in bio with every content piece to help grow your landing page traffic. While you can't share your link directly to your Instagram feed, you can embed your link in bio in your Instagram stories with the "link" feature.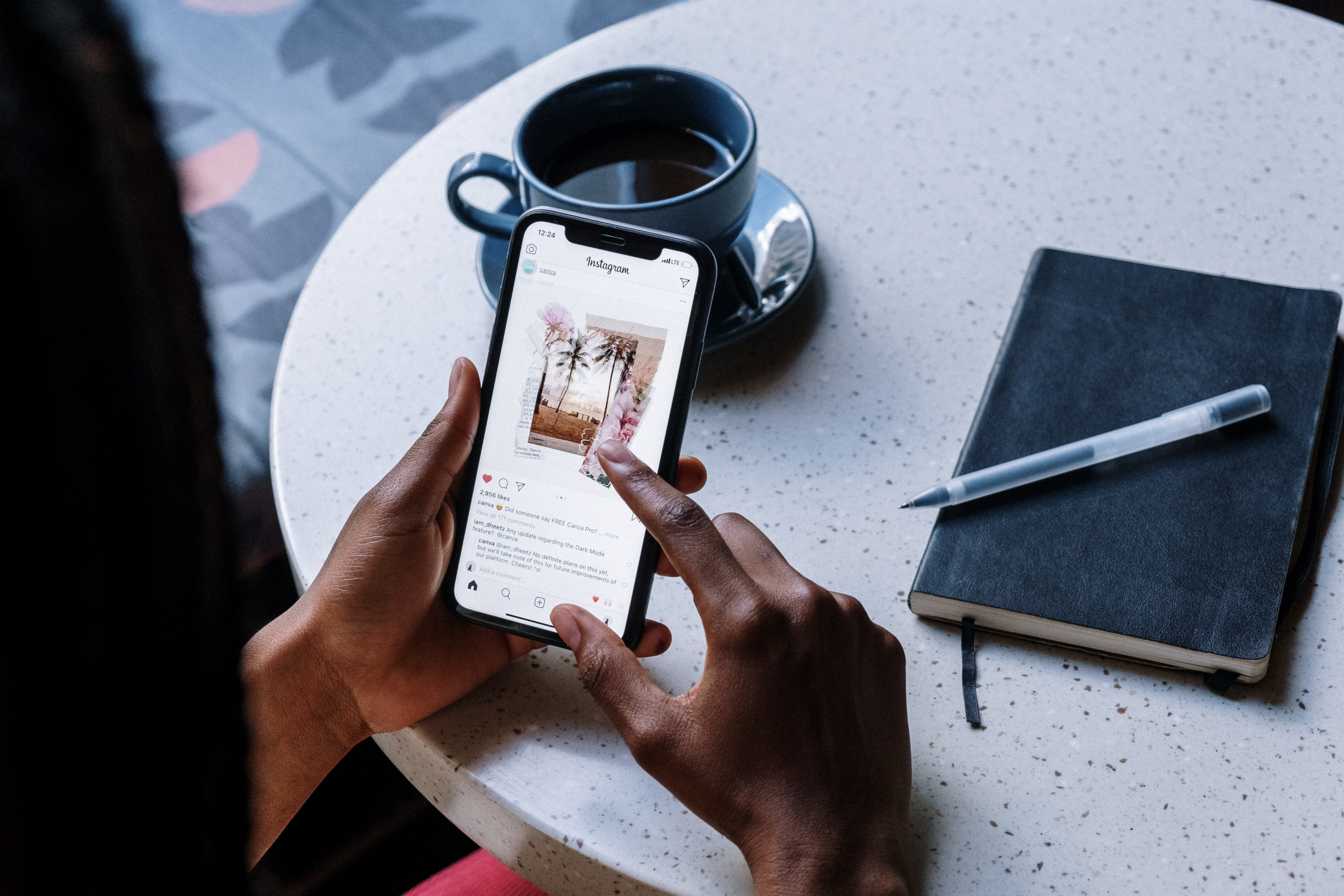 Instagram Bio Websites FAQ
Are you still finding yourself struggling to land on the best link in bio tool for your needs? Here are some frequently asked questions and answers to help you create the most effective landing page for your audience.
Can you put website links in Instagram bio?
Your Instagram account allows you to directly link a single page in your link in bio. It's best to use a mobile-optimized landing page like a Koji profile so that your fans can access your content on any and all platforms all through your custom bio link.
What is a bio link website?
A bio link website is a link that's connected to all of your social media pages and potential experiences for your fans. A supercharged link in bio like Koji can take the place of a traditional website for free. You can use this link in the website section of your Instagram account to help funnel your fans to the rest of your content.
What can I use instead of a Linktree?
Koji is a stronger alternative to Linktree providing free access and customization to all users. It's not just a list of multiple links– Koji allows you to add as many links to your link in bio as you'd like, but there are also over 200+ apps on the Koji app store that can help you monetize your passion and connect deeper with your fans.
Are link in bio tools free?
Not all link in bio tools are free, but Koji is. The Koji link in bio tool is 100% free to create, customize and monetize, effectively turning any social media bio into your own personalized storefront.
What is the best link in bio platform?
Koji serves as the best link in bio platform providing users free access, unlimited customization and links, connection to Facebook and Google Analytics, as well as a whole app store to help creators build passive income and connect with fans.
How can I design my bio for Instagram?
Customizing your link in bio tool is easy. In Koji, simply select "manage" and then "edit profile" from the drop down menu. From there, you can customize your link in bio background, font, and layout to make your landing page as pristine as possible.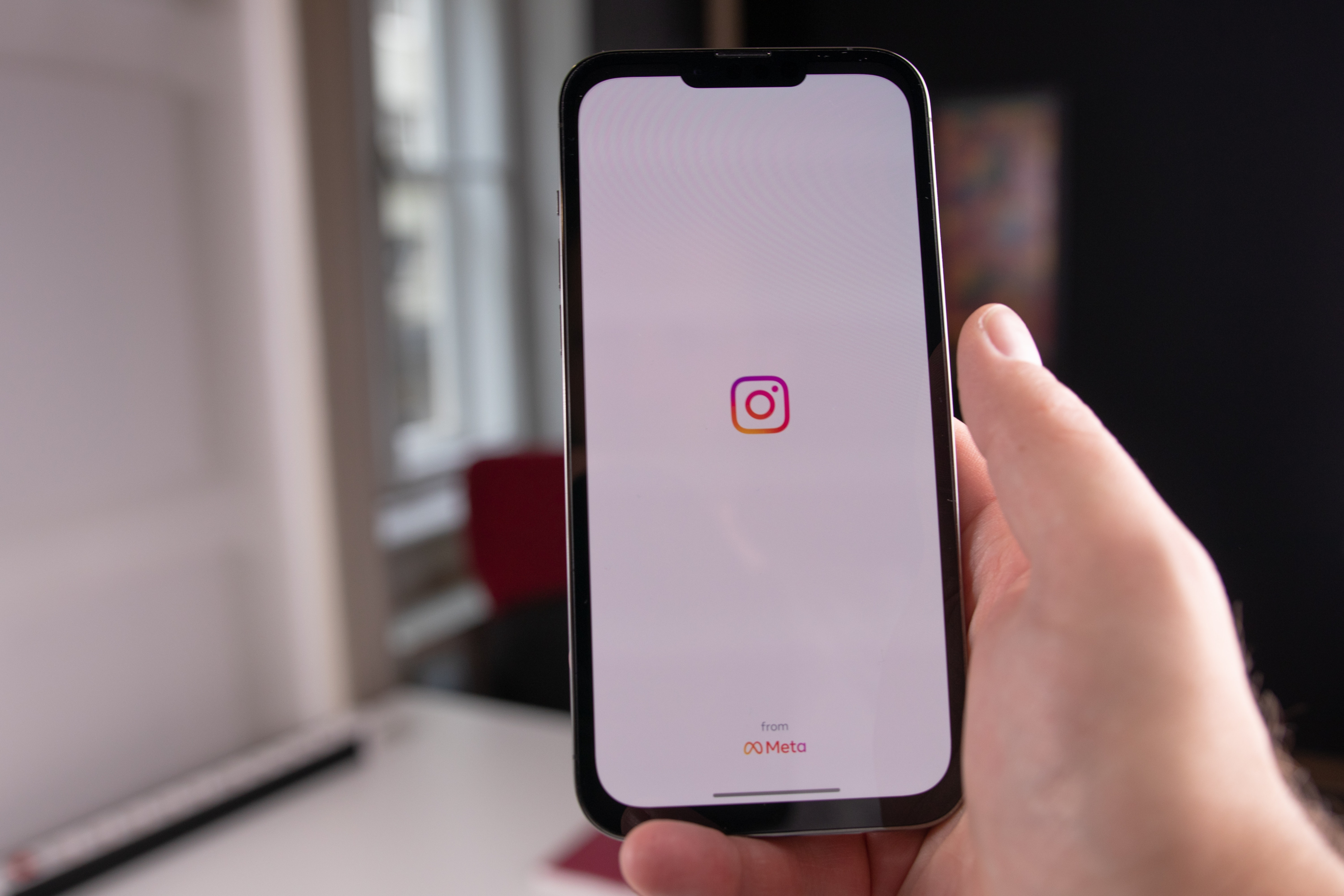 A strong, curated Instagram bio link can help you grow engagement across social media links and connect on a deeper level with your fans. Hopefully, this guide makes it easier for you to curate a stunning for your custom url for your fans.