Throwing Instagram giveaways is an excellent way to provide value to your audience and drum up more Instagram followers and engagement. However, setting up a successful giveaway post is far more complex than coming up with entry criteria and picking a winner.
Below, we'll explain exactly how to run a successful Instagram giveaway that aligns with your goals as a creator from start to finish. We'll teach you how to promote your contest and run an Instagram giveaway for free on social media– Let's dive in!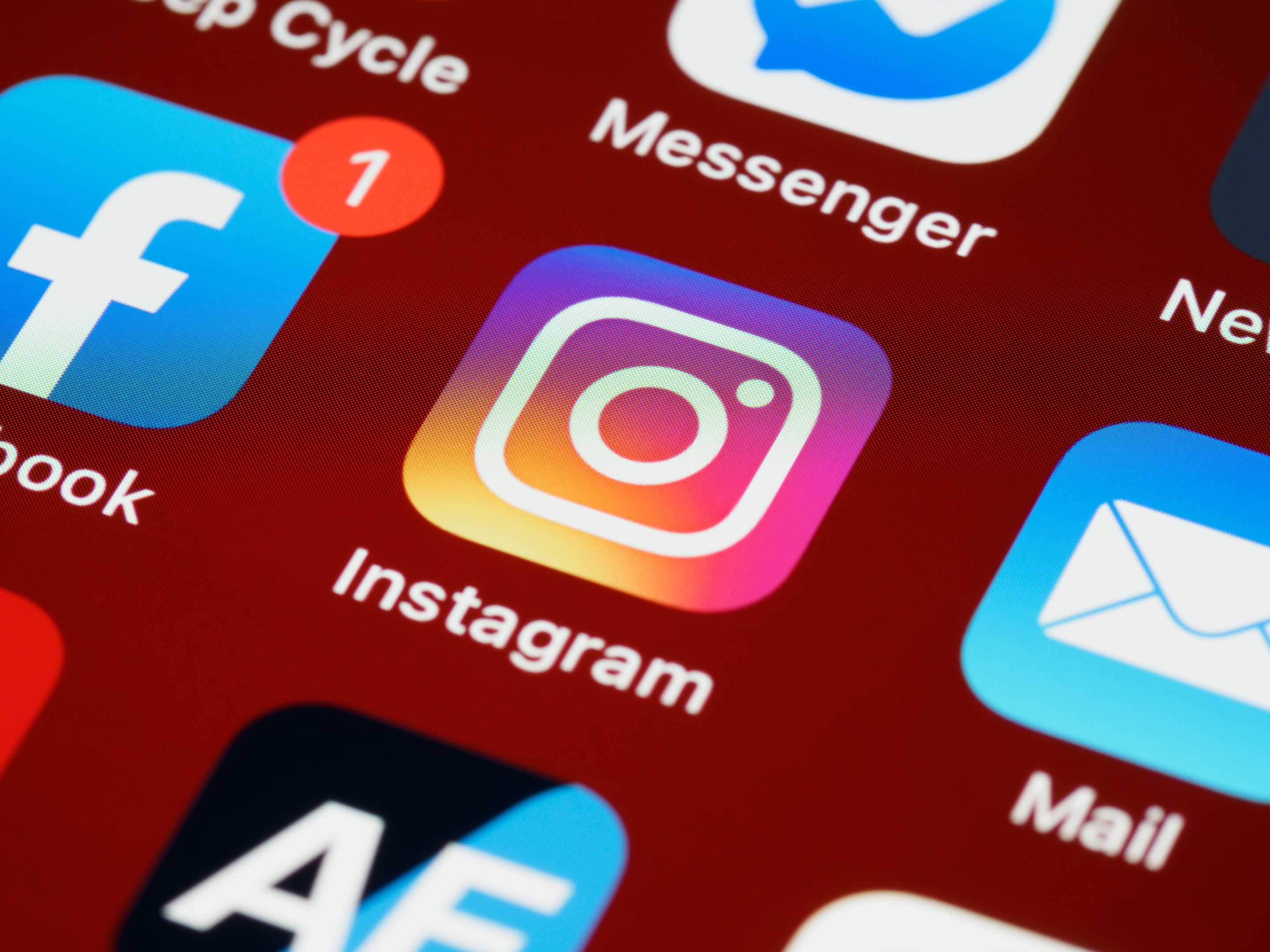 What Is An Instagram Giveaway?
So, what is an Instagram giveaway exactly? Essentially, Instagram giveaways are contests in which your existing followers and potential fans are encouraged to engage with your content in exchange for entry to win a prize. This prize could be something material, or it could be an opportunity as discussed below.
To kick off the contest, creators make a giveaway post that describes the prize, the Instagram giveaway rules, and shares how followers can enter the giveaway. Once the contest period has ended, a winner must be randomly selected from the pool of entrants and announced publicly before receiving their prize.
Instagram Promotion Guidelines
Running Instagram giveaways, so long as you follow Instagram's terms of service is perfectly legal. It's essential that you follow Instagram's rules to make for a successful giveaway campaign.
The winner is selected randomly and announced publicly.
Entry into your contest is free.
Lack of affiliation with Instagram as a brand is clearly stated.
Giveaway prizes comply with local and federal tax laws.
Brand partnerships and affiliations are clearly announced.
So long as you follow these guidelines, you should have no issue running an effective giveaway campaign on your Instagram account.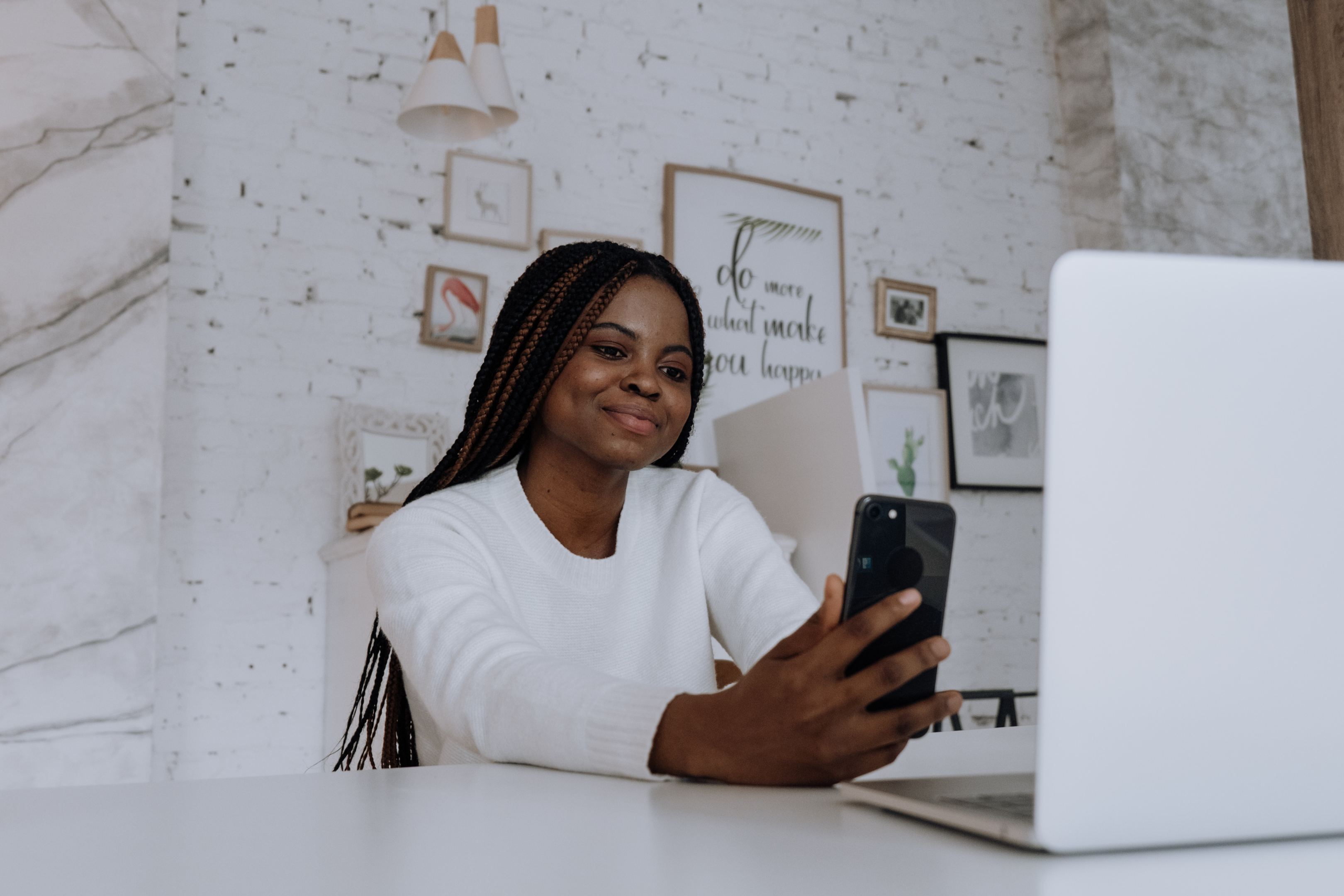 Why Should I Host An Instagram Contest Or Giveaway?
Hosting a giveaway is one of the best forms of Instagram marketing. You have the opportunity to earn new followers, give back to a lucky winner, and boost your overall engagement across the Instagram feed. If you think about it, it's one of the best, potentially low-cost ways to engage with your current and future Instagram followers.
Anyone can do it, so long as you take Instagram rules into account. We'll show you how to run Instagram giveaways properly so that you can successfully carry out a campaign through the power of your Instagram posts.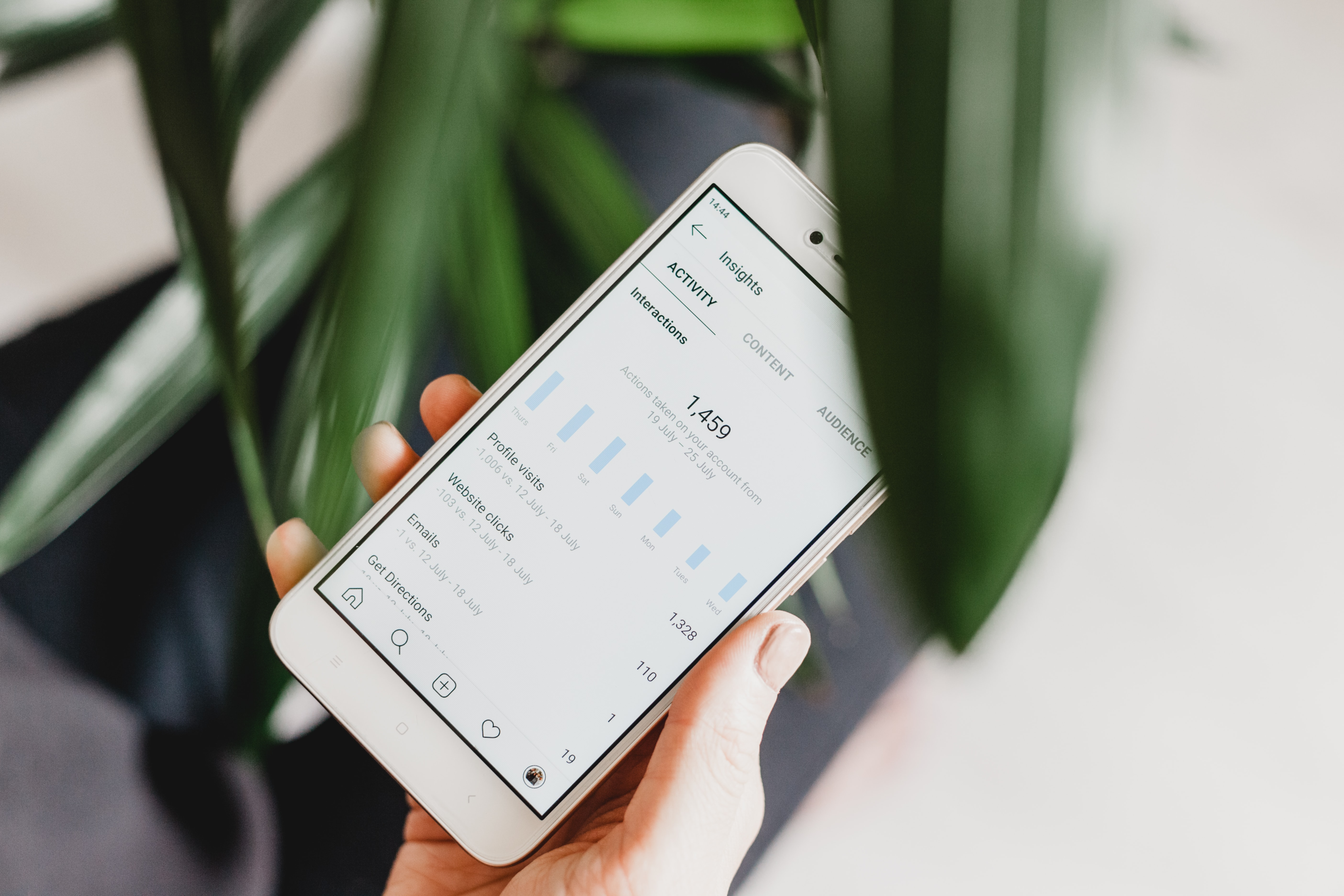 Which Giveaway Type Is Right For You?
There isn't one way to host a successful giveaway for your fans and future followers. Make sure you pick the right type of giveaway to provide your audience with value that's authentic to your brand.
Classic Instagram Giveaways
These are the most common types of Instagram contest in which your audience competes for something physical like creator merchandise or a gift basket. You can also gift different items for different Instagram users based off of their entry criteria. This way, you can maximize followers connecting with you across multiple platforms to support a strong giveaway.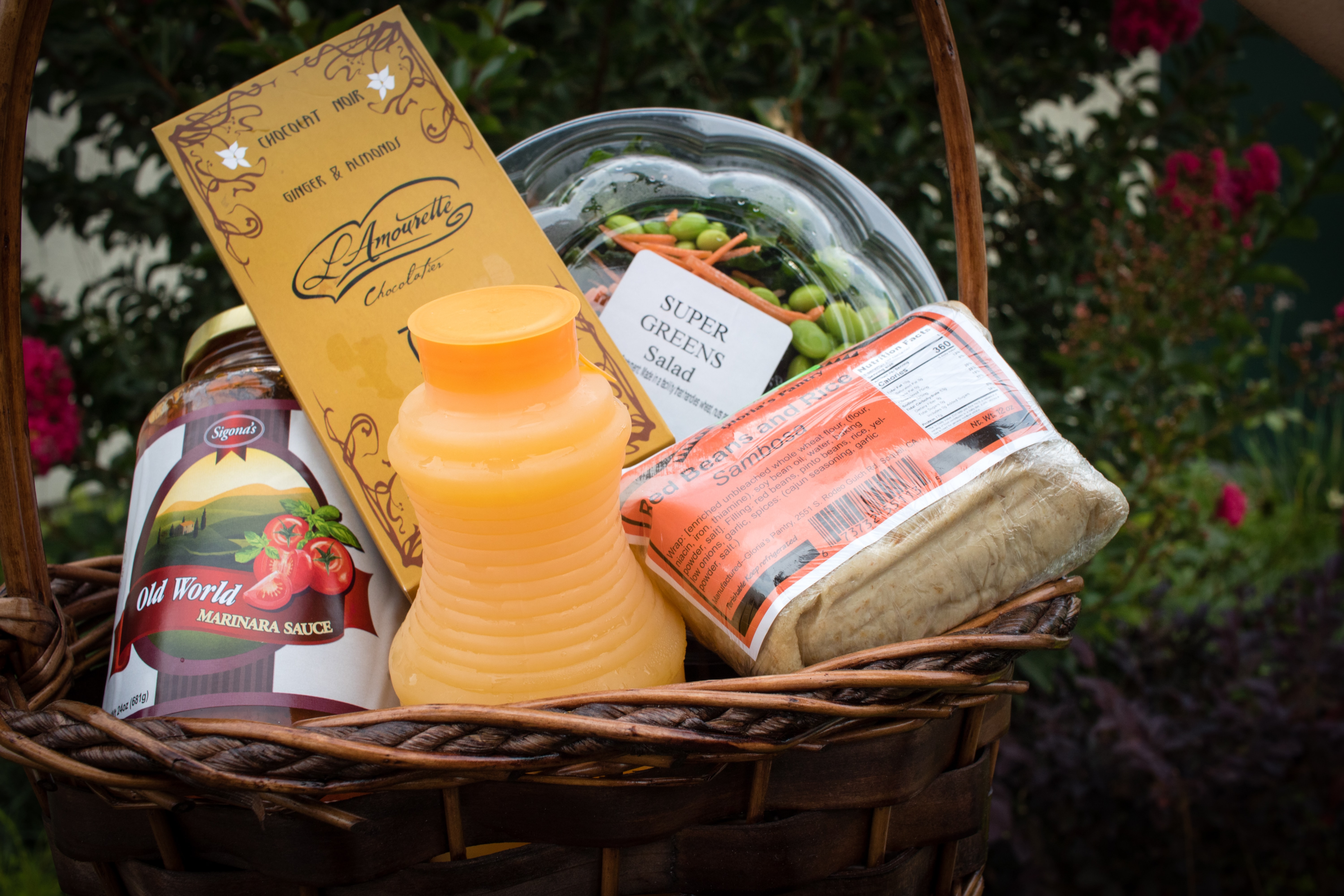 Opportunity Instagram Giveaways
If you're a content educator or an inspiring creator, you can choose to provide an opportunity instead! Free Kojis like Duet can be used to crowd source user generated content and even find your next collaborator. You can also use Kojis like Photo Guestbook for a photo or caption contest experience.
Offering experiences can be a great way to incentivize your followers since it provides a unique, exclusive opportunity while creating derivative content that you can use moving forward.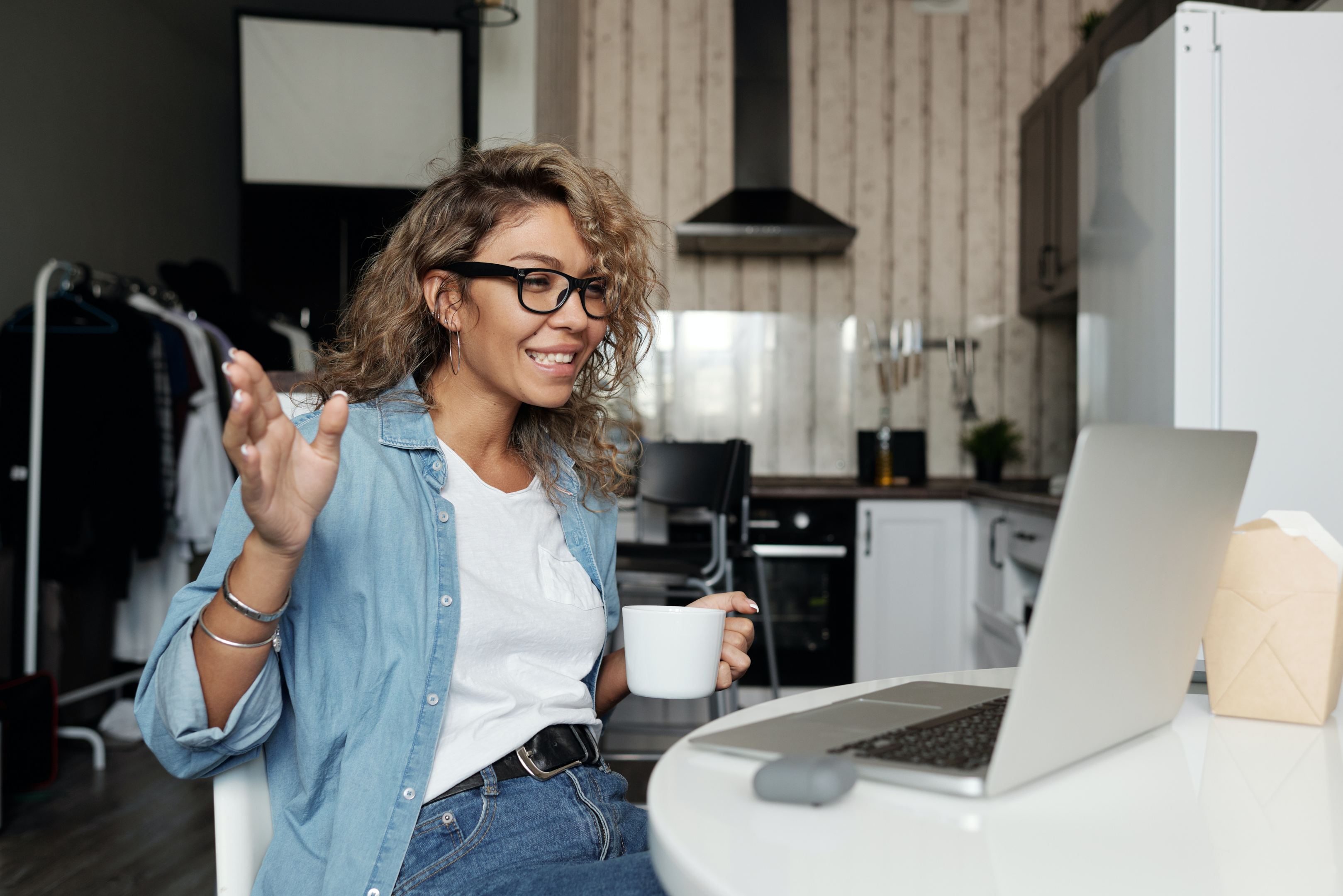 Instagram Giveaway Ideas
Are you ready to host an Instagram giveaway but you're not sure what the prize should be? Check out these Instagram giveaway examples that might make sense for your audience:
Personalized or signed merchandise
Tickets to an upcoming live show or event
1-on-1 mentoring session
Website or service membership
An official collaboration with you or remix for musicians
Gift baskets
Gear related to your niche
Tickets to a local experience
Advertising or brand awareness space
The sky is the limit! Have fun and make the giveaway truly your own. So long as you're meeting Instagram's guidelines, there's no one right way to host a successful giveaway!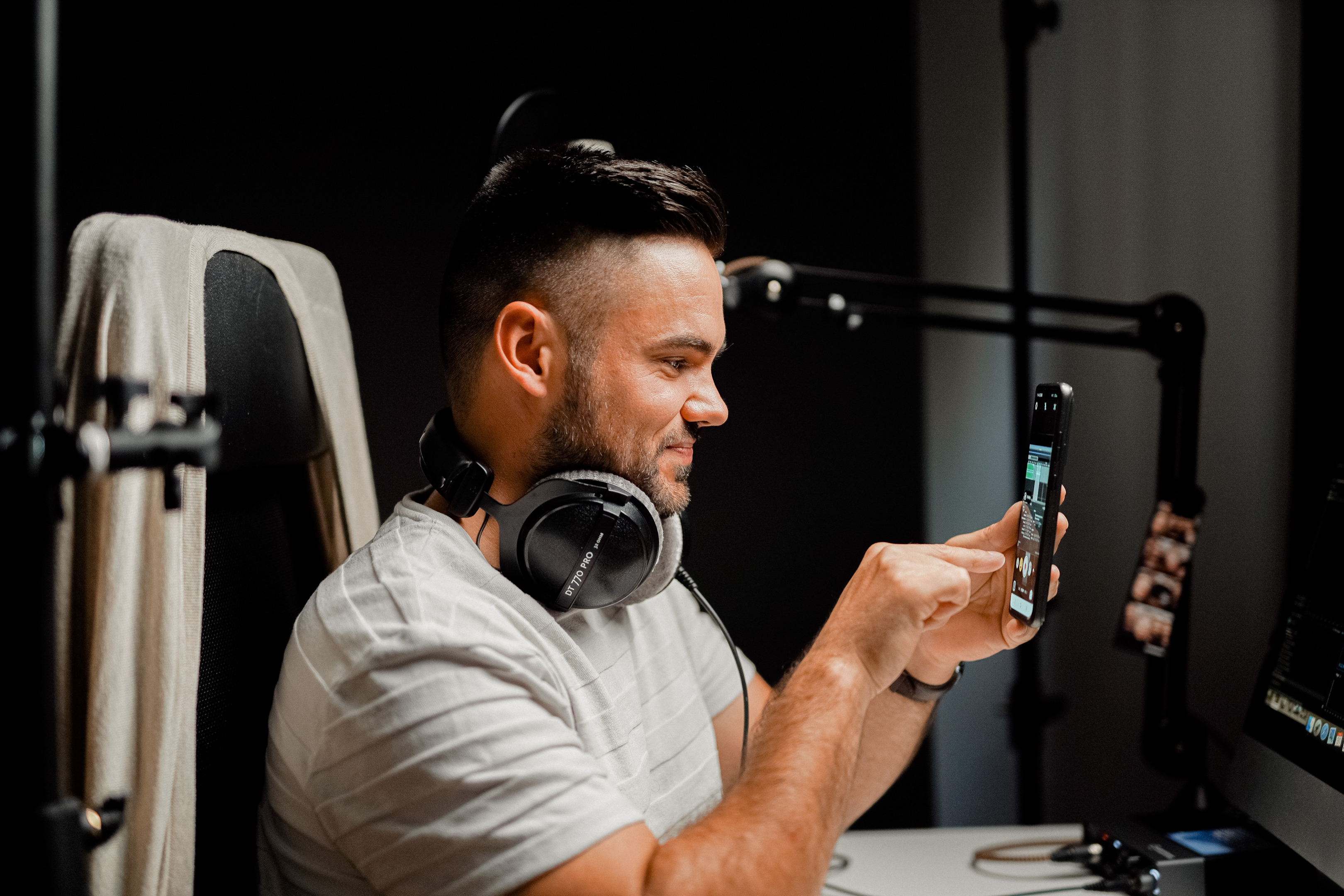 How To Host A Successful Instagram Giveaway In 7 Steps
Are you ready to kickoff your Instagram giveaway? Here's exactly how to make your own Instagram giveaway in 7 simple steps. In this example, we'll be using the Giveaway Koji to run an Instagram contest, but note that you can use other Kojis to accomplish contests for opportunity or experience-based giveaways.
What Is A Koji?

A Koji is a type of interactive media that can help you sell your products, downloads, services or premium content. To create a Koji, simply select a template and customize before sharing the unique URL on Instagram, TikTok, YouTube, WhatsApp, or anywhere else!
1. Determine Your Prize
The best way to promote your Instagram giveaway is to have an amazing prize. Think of something that you followers (or future followers) could truly enjoy or use to advance their content. The more exclusive, the better. Your prize should be general enough to draw in new fans, but the perfect instagram giveaway post is personalized so that it speaks to your unique brand or angle. As expected, the greater the prize value, the more likely you are to earn new followers.
2. Add Giveaway
Now, it's time to set up the logistics of your giveaway. To start, add Koji's free Giveaway Koji. A Koji profile only takes a matter of minutes to set up, and allows your followers to interact and purchase your content without ever leaving their original browser. This way, you can host and manage your giveaway across multiple platforms for free. Koji also provides in-depth analytics so that you easily track the progress of your giveaway.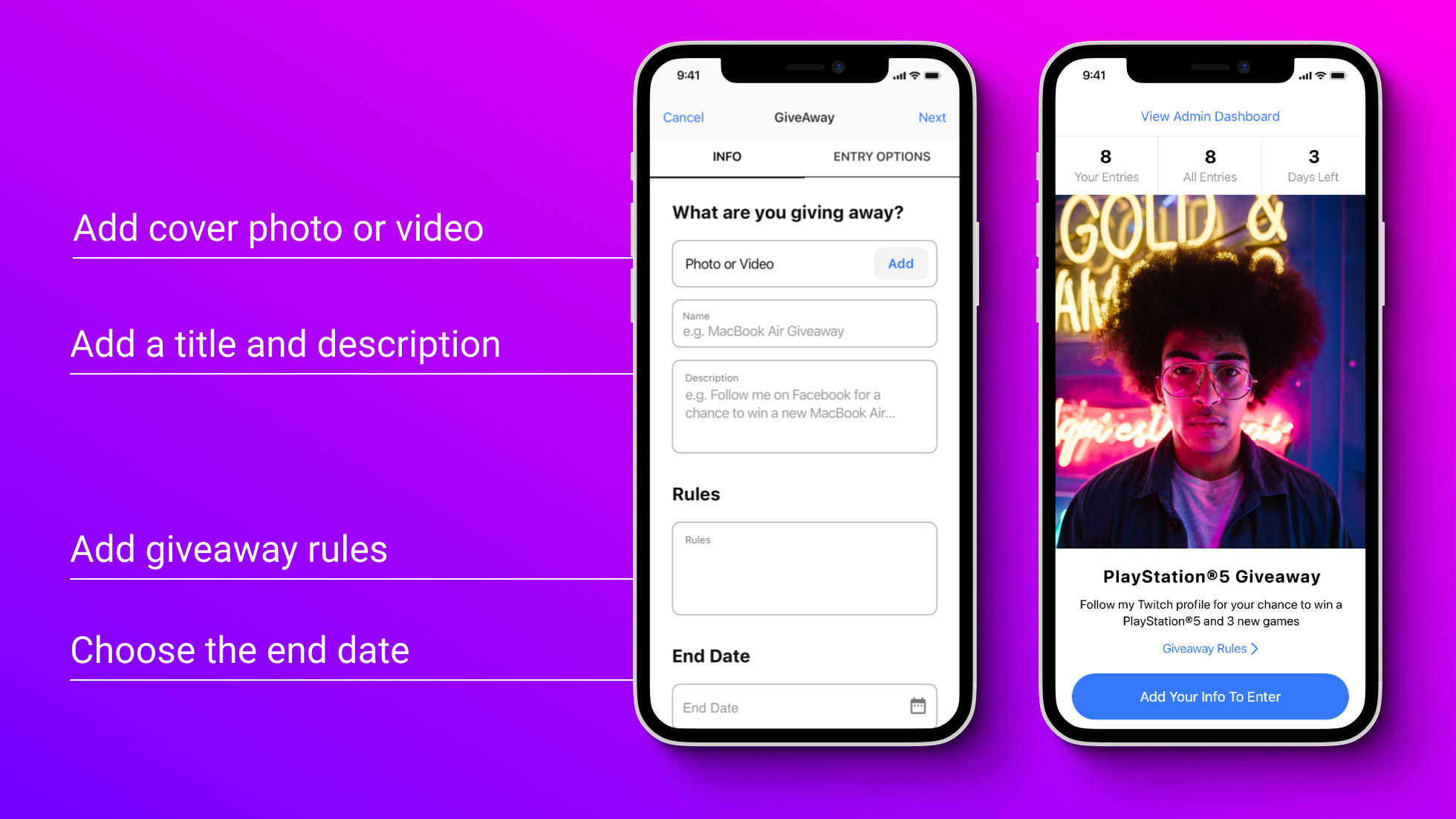 3. Describe Your Giveaway
Make sure you put plenty of time into describing and ironing out the terms of your own giveaway to alleviate as many questions as possible from your followers. In the giveaway Koji, you can add a cover photo or video, name, description, rules, and a clear end date for your audience.
In addition to the entry requirements set below, you can create different incentives for fans in the "rules" section. For instance, you might offer extra entires to those who tag a friend or use a specific hashtag surrounded your campaign.
4. Set Your Entry Requirements
It's time to set up your entry criteria. Koji provides a bunch of built-in options for automatic entry which you can set to your liking. This could be following you on your social profiles, signing up your newsletter, or watching your latest music video, for instance. Link as many social profiles as possible to expand your entry criteria for your audience.
Once you've done so, your giveaway Koji is ready to go live! Click "save". You and your entrants will be able to view the total amount of entries and how many days are left in the contest. Only you will be able to see the names and contact info of the entrants via the admin dashboard where you'll also be able to randomly select your giveaway contest winner.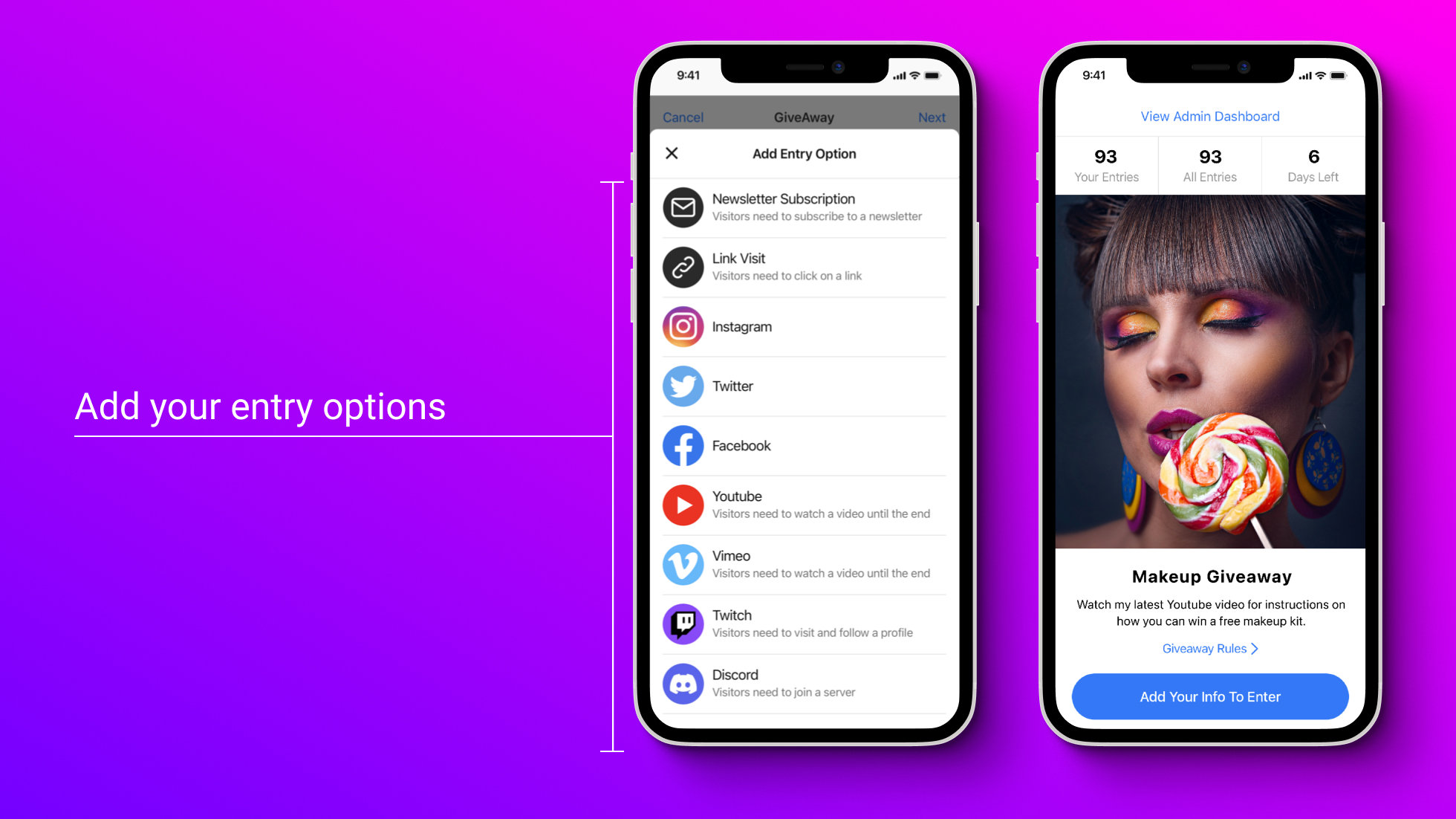 5. Make Your Giveaway Post
Perhaps the most important part of the process is creating an impactful announcement post on your Instagram! You'll have the most momentum tied around your original post, so make sure to put it to good use. After all, most people are happy to earn free stuff, but if they don't know exactly how to enter, participating in your giveaway can go over their heads.
Outline your clear rules of entry again in your post, with a clear call to action to your giveaway Koji on your social profiles. You should also link out your giveaway directly via Instagram stories. Other platforms are fair game too! If possible, have a friend look over your Instagram posts surrounding the giveaway before it goes live to ensure it's as comprehensive as possible.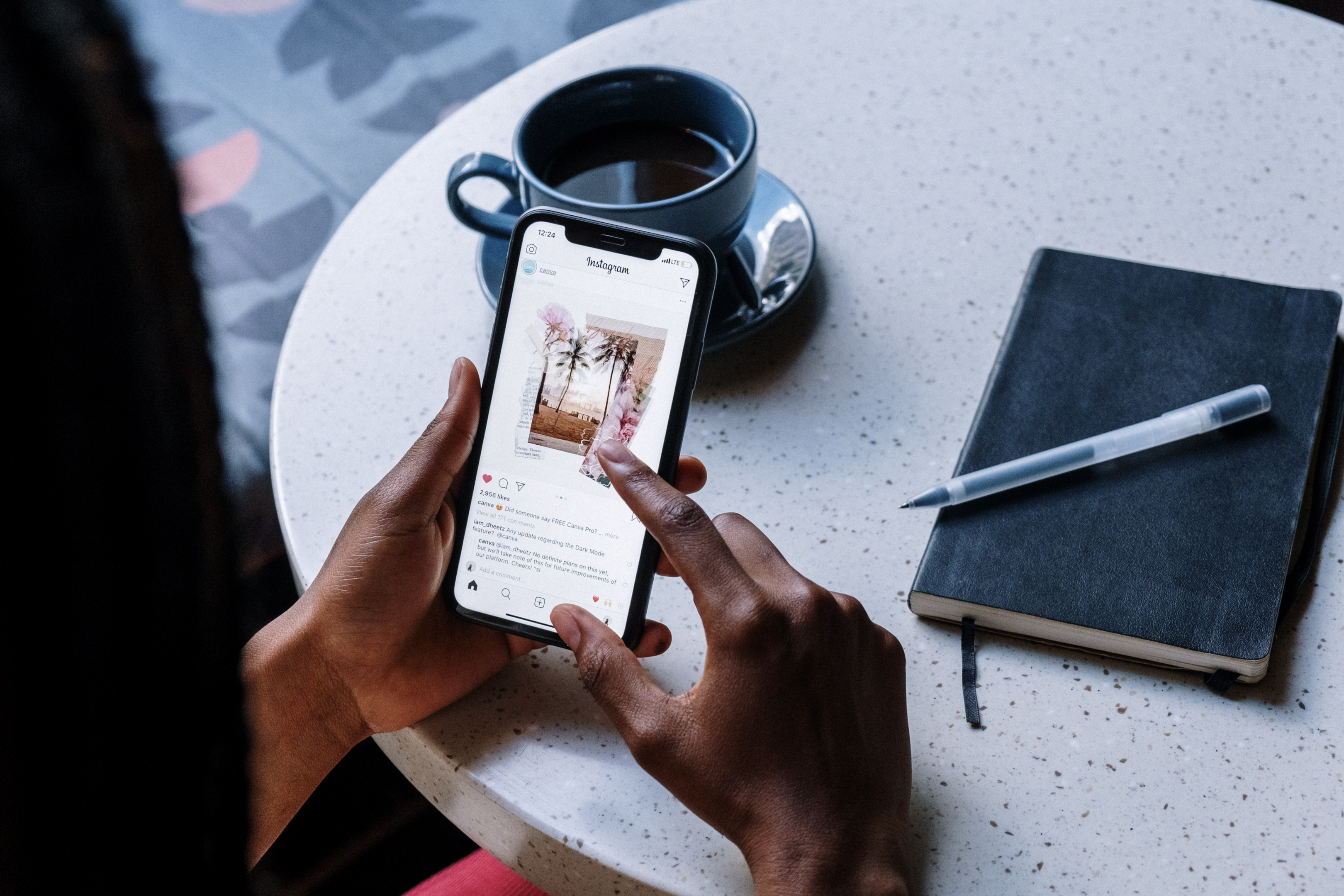 6. Promote Your Giveaway
You won't reach your marketing goals and see a noticeable increase in your follower count if you stop promoting after your initial campaign post. Your Instagram contest should be regularly mentioned with each piece of content posted, preferably with a campaign hashtag and direct link to the contest landing page.
If you're running a giveaway based around an experience or audition, you can use some of your user generated content to promote your Instagram contest. Your entrants will appreciate being acknowledged by their favorite creator, and you might inspire some more entries in the process.
Instagram giveaways are only successful if your promote them. Create consistent posts in the days and weeks leading up to the end of your campaign and be sure to showcase the value of your prizes.
7. Pick A Winner
Finally, it's time to select a lucky winner! Go to your giveaway Koji dashboard and click "select a winner". The Koji will randomly select a lucky follower based on the entrants. From there, be sure to announce the winner of the contest via Instagram's rules.
You should also reach out to your winner using direct message to coordinate sending over the prize or scheduling the experience. If possible, ask your Instagram contest winner to make a short video describing their experience. This can be used for future marketing and plant the seeds for a future contest post or giveaway campaign.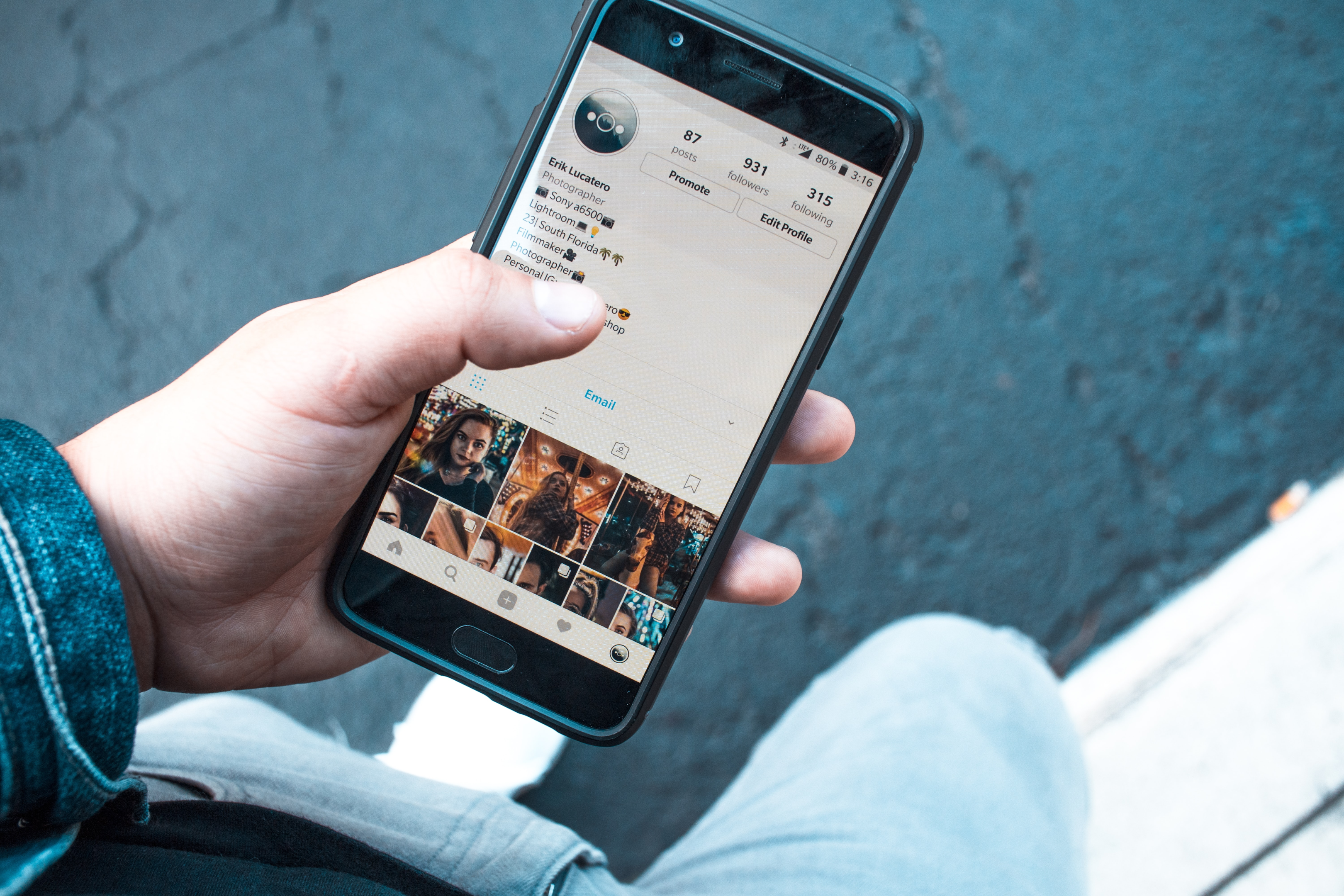 How To Do Giveaways On Instagram FAQ
Are you ready to host your own Instagram giveaway? Here are some frequently asked questions and answers to help your contest run as smoothly as possible:
How do you pick a winner from an Instagram giveaway?
Picking a winner for your Instagram giveaway post is easy. Simply go to your giveaway Koji, and select choose a winner. The Koji will then randomly select a winner based on your entries, so you won't have to comb through a bunch of entries to find your Instagram contest results.
How do you do a giveaway on Instagram 2022?
Running a successful Instagram giveaway post campaign isn't as complicated as it seems. With the help of the free Giveaway Koji, you can collect as many entries as you'd like and have entrants confirm their engagement to enter the contest. This Koji allows you to run contests across any platform, not just Instagram.
Are giveaways on Instagram illegal?
Giveaways on Instagram are perfectly legal so long as you comply with the platform's terms of service. We outline exactly how to create a safe and effective Instagram giveaway experience in this guide for reference.
How do you make a giveaway page?
Creating a giveaway page takes only a couple of minutes with Koji. This giveaway management tool makes it easy for you to promote Instagram contests across social platforms, allowing you to host giveaways just about anywhere. This giveaway works as a landing page and will automatically choose a winner when the giveaway ends to make your life easier.
How do you pick a winner for a giveaway on Instagram?
If you use the giveaway Koji, choosing a winner is easy! The Koji will automatically select a winner as the contest ends. You can track entries directly in your Koji and use these Instagram giveaway picker tools on any social platform.
Should I promote my giveaway on Instagram?
A giveaway on its own has no power without promotion. In addition to a promotional Instagram post, you should be creating contest posts on other social media platforms to maximize engagement. Tools like a campaign hashtag can also help you boost your post engagement and expand your contest far past your current followers.
How do you introduce a giveaway on Instagram?
Before you post about your Instagram contest, you should set up your Giveaway is set up properly in your Koji. Introduce your giveaway with an engaging piece of content and a clear call to action. Don't forget to post about your giveaway in your Instagram stories and on other social media platforms to maximize outreach.
And there you have it! Instagram giveaways can be an excellent way to earn more followers within your target audience. These campaigns also provide your existing audience with value and boost engagement, taking your content to new heights. Have fun running your own Instagram giveaway contests!

Related Links
How To Build Your Community
How To Stay In Touch With Your Fans
How To Get Your First 1,000 Followers On TikTok